Marie-Anne Fischer

I had a great time playing the E-Ukulele, it's a beautiful and natural sounding library which consists of a chord and playable standard patch. It's a really versatile gem which oozes quality. I look forward to using it in my next project. Many thanks for a wonderful product!

Tomislav Zlatic

This is a must have for anyone who would like to add sampled ukulele sounds to their instrument arsenal. The sampling job was done flawlessly and the instrument comes with tons of cool features in order to make the performance sound even more natural.

John Tenney

E-Ukulele is a really fine library! Easy to play, excellent sound quality, and importantly, good voicing on the strums. Makes it sound very realistic!

Christian Graf

Musician and homerecorder

It's a fabulous sampled instrument and a great helper to make a song sound friendly and fresh. Especially the strums with their variations are fun to play with for hours! Thanks for the effort and for this tool!

Bill Thompson

I love it! The quality of the samples is up to their usual high standards. The Chords patch is just plain fun. I can create tracks with it that sound strange, or even almost realistic. E-Ukulele has more than enough flexibility to create some very interesting tones. I'm even using it on a project right now!

James Simcik

First of all, thank you for this E-Ukulele. I've been trying it in various configurations. Mostly, I'm using the octave notes randomized (it seems to give a natural feel to it). Besides that, I also use it to augment your Hammered Acoustic Guitar.

Babis Trihos

E-Ukulele sounds fantastic. I have been playing it for a while with drums and bass in the background and it seems to fit into many different musical styles. Besides that, the interface is easy to use. Great work.Please keep on creating such beautiful sounds.

Brian Brylow

E-Ukulele is a fantastic tool for adding texture and depth to my existing compositions. It allows for tonality and sound that was not previously available from other instruments. I already incoporated it into many of my recordings. Bravo!

Raffael Gruber

I always look for new sounds. Equally important is the playability of the sounds. E-Ukulele combines both things into one great product. I hope that there will be more cool stuff from audiowiesel in the near future!!

Rick Balentine

Wow. I absolutely love the E-Ukulele! After a few short minutes of playing it I see the amazing programming work that went into this instrument. I will be using it on some romantic cues this week! Thank you, audiowiesel!

David Frederick

Audiowiesel's new E-Ukulele offers a distinctive combination of usability, superior sound quality and outstanding programming. If you are looking for a top notch - professional E-Ukulele, I highly recommend this product!
3 VERSIONS AVAILABLE (prices excl. VAT):
3 new versions: Free / Standard / VIP
For a detailed comparison chart, please scroll down and click on 'Free vs. Standard vs. VIP"
We sampled an electronic ukulele (Les Paul model) from Epiphone. At the beginning it was just a fun project and we kept adding new sample content for private use only. Now, we decided to make this available to the public as free download in order to let everybody use this in their own productions.
All samples in E-Ukulele are mixed totally dry in order to give you the greatest amount of flexibility. This way you have total freedom of spatial placement and the role E-Ukulele plays in your production (like a melodic or background instrument).
We hope that you have at least the same amount of fun we experienced with this instrument. Use it, abuse it and please share your work with us and the public and talk about our libraries with your friends.
Important note: In order to use E-Ukulele you have to have the full version of Native Instruments' Kontakt 5.3 (or higher). This library does not work with the free Kontakt Player.
Have a look at the specs of the single notes included in our standard version:
11x round robin per note per velocity
4 velocity layers
switch between monophonic and polyphonic
play in normal range or in extended range
add octave tones to your notes (8vb and 8va)
control over ADR
control over round robin notes
1,258 samples in total
273 MB Kontakt .ncw format
44.1kHz / 24bit / stereo
Specs of VIP version:
everything what is included in standard version
select your sound source out of 8 different options: G string, C string, E string, A string, normal (lowest position), normal (no open strings), open strings only, 12th fret
randomize your sound source with every note you play
This is in overview of the chords specs of the standard version:
14x round robin per chord per velocity (7x down-stroke, 7x up-stroke)
4 velocity layers
10 different chord strucutres available on every root tone: major, major6, major(-7), major7, major9, minor, minor6, minor(-7), sus2, sus4 and also dead notes
control over ADR
control over round robin notes
2,699 samples in total
930 Mb Kontakt .ncw format
44.1kHz / 24bit / stereo
Specs of VIP version:
everything what is included in standard version
5 different looped patters played over 7 bars on all chord structures and all root tones
3 different starting points in every loop which gives you a quasi round robin
use an offset with a 16th notes grid on every pattern
3,004 samples in total
1.3 GB Kontakt .ncw format
These are the specs of our special picking patch:
natural counterpart to the chords patch due to the same key switches and chord structures
fully functional fretboard for visual feedback and for creating your own chord strucutres
all 10 different chord strucutres are pre-programmed but there is also an additional preset menu to save up to 24 own structures
control over ADR
control over round robin notes
monophonic or polyphonic mode, also for octave notes
uses samples from single notes including all velocity layers and round robin notes
[4-col]">
Requirements
full retail version of NI Kontakt v5.3 or higher is requiered
PC 2.4Ghz, 4GB RAM or MAC 2.6Ghz, 4GB RAM
ability to download
up to 2 GB of harddrive space
the downloaded files are in .zip archive format, you'll need to extract the files;
for Windows users: http://www.win-rar.com/download.html
for Mac users (OSX): http://www.unrarx.com
Tech Specs
standard version:
11x round robin per note per velocity (single notes)
14x round robin per chord per velocity (7x down-stroke, 7x up-stroke)
everything is in 4 velocity layers
10 different chord structures on every root tone (major, major6, major(-7), major7, major9, minor, minor6, minor(-7), sus2, sus4 and even dead notes)
control over ADR and round robin
VIP version:
5 different looped patters played over 7 bars
special Picking patch
1.2 GB (standard version) / 1.6 GB (VIP version) Kontakt .ncw format
sample resolution: 44,1kHz / 24bit / stereo
Single note Features
true range / extended range
You can limit the playable range of this instrument to be equal to the playable range of the ukulele. But to be honest, it's way more fun to use the extended range and spread the samples across a few octaves on the keyboard. If you are used to play the piano you'll love that function.
Every note is recorded 11 times and this is true for all velocity layers. Even fast repetitions on a single note is no problem.
Similar to the chords, we recorded every note in 4 different velocity layers. A scripted velocity function smoothes the transitions between different layers in order to give a seamless playback through the whole dynamic range.
It is possible to create additional octave notes from your performance (8vb and/or 8va). Usually, these octave notes follow the velocity of the original note but you can also put some amount of randomness into their value. This function is great when you are looking for inspiration!
For melodic lines you might want to put on monophonic mode. Obviously, a piano-esque performance requieres polyphonic mode. Even the octave notes can be put into monophonic mode individually. In particular, this is very useful for 8vb notes to prevent the sound from getting muddy and dull. Or by putting 8va notes into monophonic mode you can make sure that the top line is always heard.
Again, this function can also be found in the chords section. Take control over all indiviual round robin notes by using midi CC to re-create a particular performance.
Chord Features
10 different chord strucutres
All sampled ukuleles on the market (at least up to now) offer just plain major and minor chords, nothing more. E-Ukulele comes with 10 different chord structures on every root tone! Major, major6, major(-7), major7, major9, minor, minor6, minor(-7), sus2, sus4 and even dead notes.
Again, most ukulele libraries come with 6x round robin in total. E-Ukulele doubles that number and offers 7x round robin for all down-strokes (for all 4 velocity layers) and 7x round robin for all up-strokes. This way you can create fast strumming patterns without recognizing the machine gun effect.
Every chord strucutres is sampled in 4 different velocity layers. But that's not enough, we also added an artificial velocity function which smoothes the the transitions from one layer to another. You are able to play seamlessly throug the whole dynamic range.
In order to re-create a specific performance you liked, simply take advantage of the round robin control. You can set the round robin number via midi CC. When set to default it cycles through all round robins available.
Picking Patch Features (VIP version only)
fully functional fretboard
The implemented fretboard is great for giving you a visual feedback of how the different chord structures are played on the ukulele. But in addition to that, every fret is clickable, allowing you to create your own strucutres.
All 10 chord structures are pre-programmed and accessible via key switch. Of course, the Picking patch uses the same key switches which are also used in the Chords patch. This makes the transition from strumming to picking absolutely fluent and easy. And you also have access 24 more slots to save your own fancy chord structures – in case you need that!
ADR, round robin control and octave notes
As usual, you have full control over ADR settings and the round robin function. Maybe you alread know about the octave notes from the single notes patch. They are very useful in order to alter your sound and the character of it. Also, you can set those notes into monophonic or polyphonic mode. Obviously, if you are going for a realistic sound, you would choose monophonic mode since one string can only produce one note at a time.[/fusion_old_tab]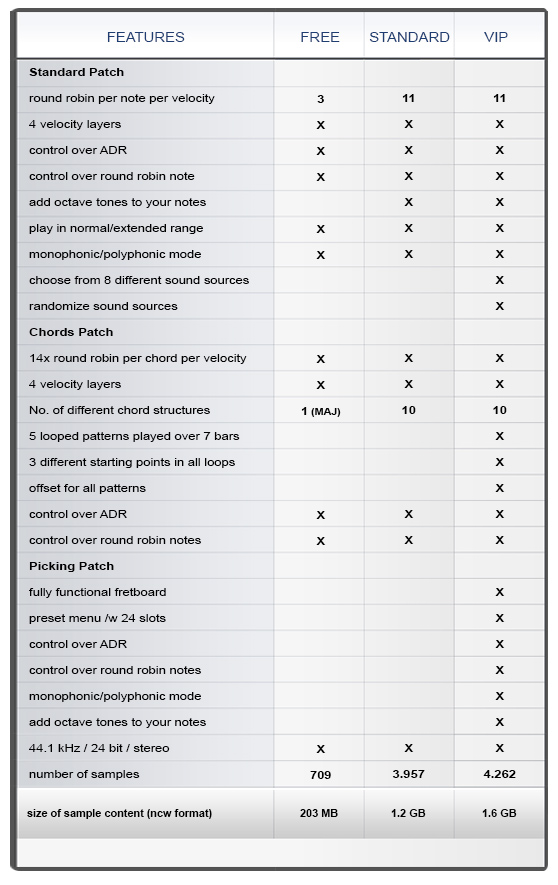 [/fusion_old_tabs]